Welcome to Skyline Vineyard
our retirement plan!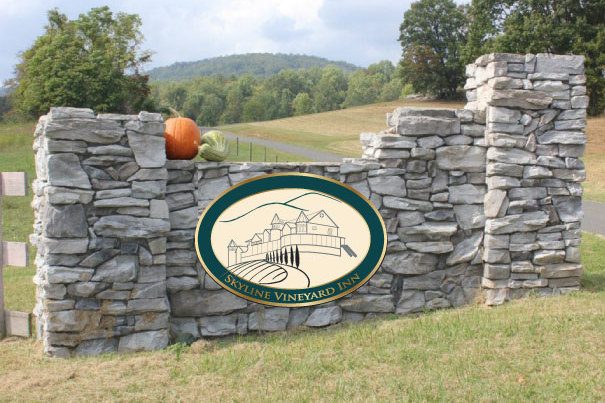 Welcome to Skyline Vineyard ... this little farm is our retirement plan!
The property is 55 acres, tucked into the edge of Skyline Drive, and located right in the sweet spot of Virginia Wine Country and the Blue Ridge mountains. The farm goes up to 973 feet in elevation, extending high up Jenkins mountain with a gorgeous 270 degree panoramic view that has left us struggling for words since the moment we found it.
Over the past 10 years of living on the mountain, being one with nature and the wildlife of the Blue Ridge, we have become obsessed with protecting this little piece of heaven as forever farmland where black bears, turkey, deer, bobcats, groundhogs and birds of all kinds, including the rare bobwhite, can live in their natural habitats. The Southeast facing slopes here are perfect for growing vineyards, so you will get to watch us grow as we add another vineyard or two to make the property sustainable as farmland and continue crafting Virginia's top rated wines.
We "bought the farm" in 2010 and officially started our retirement adventure in beautiful Rappahannock County on 11-11-11 at 11:11:11am with the opening of Little Washington Winery, now the lower 25 acres.
We expanded in 2017 when one of the top rated B&Bs on the East Coast went up for sale in our back yard. We joined the two properties together to have another perfect slope for vineyards. Our footbridge makes it easy to take a short gorgeous walk to both tasting rooms. We're excited to protect this special place as a spot where you are always welcome to come relax and enjoy!
It's our pleasure to host your adventure in the Blue Ridge Mountains at Shenandoah National Park. This is the perfect base camp for enjoying wine tasting, hiking, bucket-list dining, curling up in front of one of our rustic fireplaces or sitting on our 'gone with the wind' porch staring endlessly at the beautiful Blue Ridge mountains.
Kayaking, hiking, horseback riding, mountain biking, fishing, shopping, antiquing, dining and culinary classes are some of the most popular activities here. We can help you arrange guided tours, or give you tips on where to go while you're enjoying this bucolic, rural protected place.
No matter what season you visit, we can help you make your stay memorable. We look forward to hosting you at Skyline Vineyard.