May 29, 2018
Bear & Goat Saga at Skyline Vineyard Inn
By: Donna Henrickson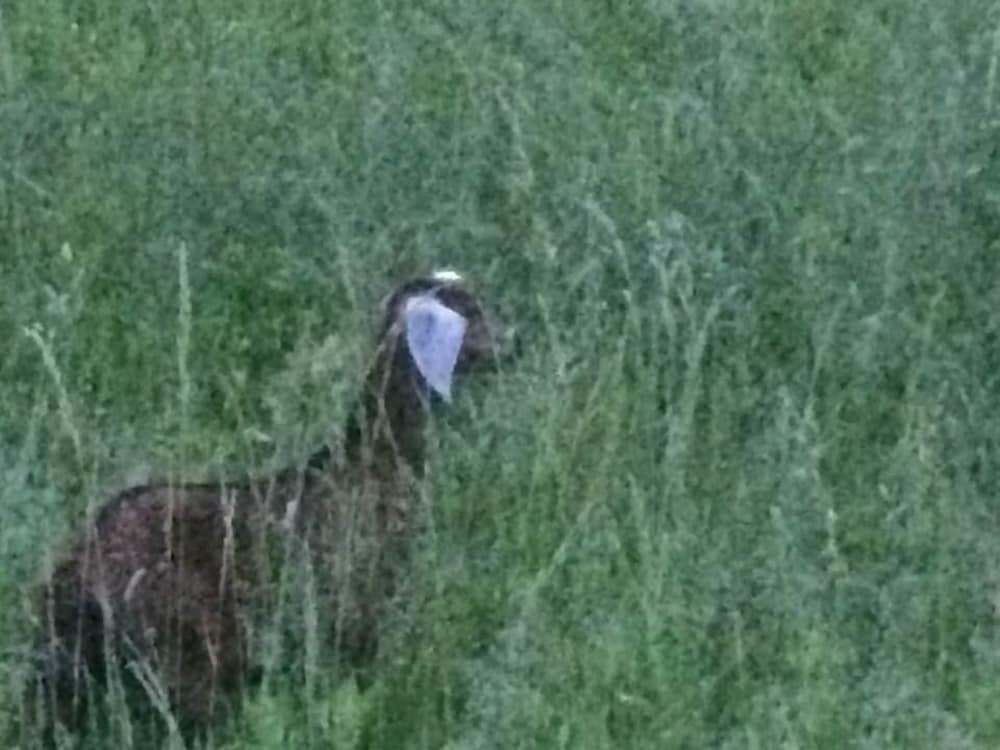 So ... out on the porch watching the rain when we hear ... bleating? ... and say, "is that a goat? Nobody would leave a goat in the middle of a field ... a bear will eat him." Within 3 minutes here comes a bear charging into the field chasing the goat. Goat ran. Carl made loud noises to distract Bear. Bear ran to woods. Goat won.
We put out a message on the community board, "Anybody missing a goat ... looks like a deer with a white face ... bleating to get over the fence ... and being stalked by a bear. Goat now very still ... bear now very still waiting for us to go away."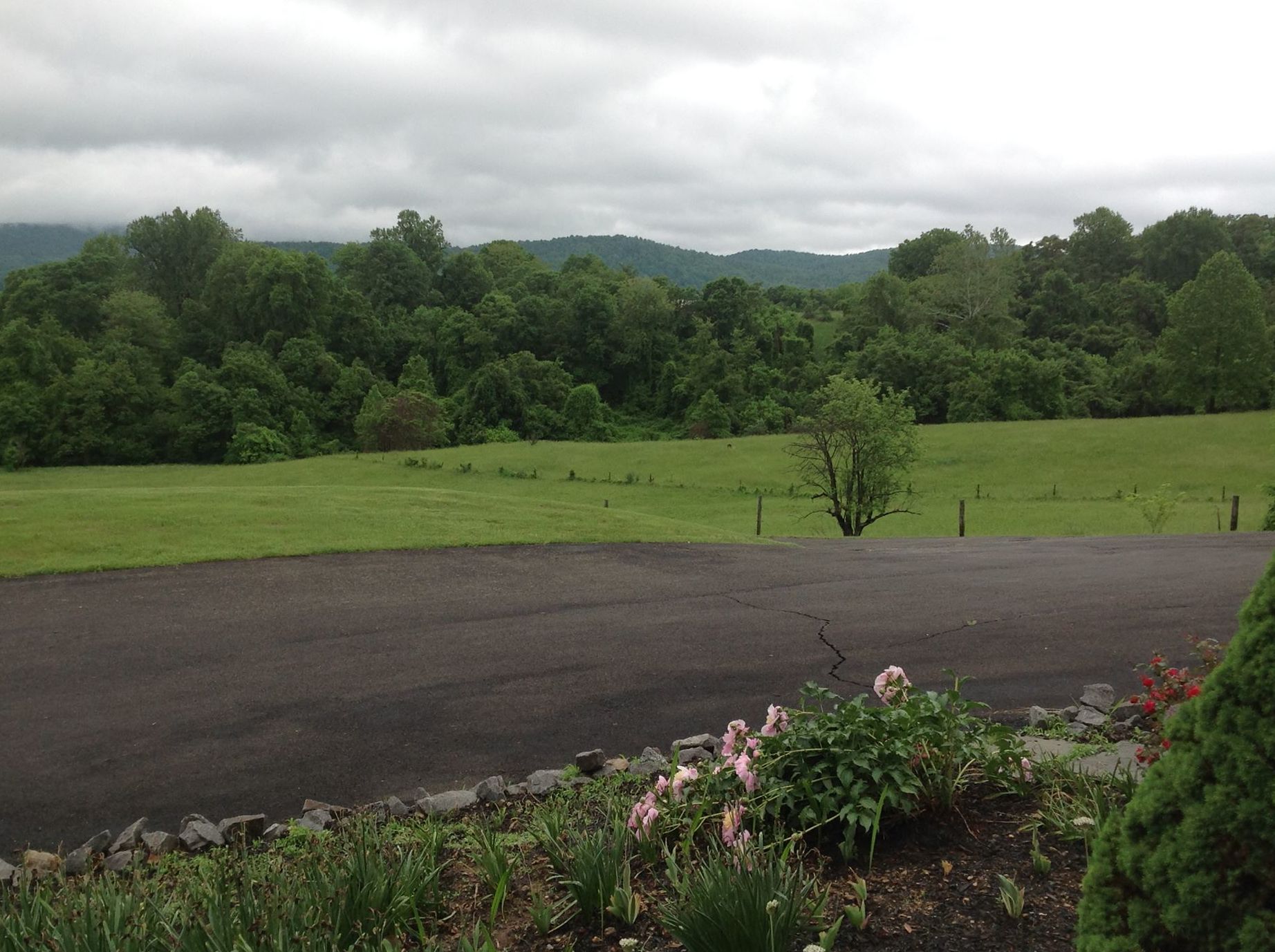 We are watching Bear at the edge of the woods standing up, sitting back down, standing up, sitting, standing ... Now here comes Bear searching for goat in the field ... that little goat is so still ... laying between the second and third fence post to the right of the Apple tree. Bear smells him. Bear searches. Carl makes noise. Back to the woods Bear goes. Goat won.
As soon as Bear ran back to the woods Carl went out to rescue Goat. Um, now this is a fast little elusive goat. Seems like a baby - sees Carl and says "hey, are you my mother? Do you wanna jump and run and play?" Carl proceeded to try to get Goat. It got so dark and Carl couldn't catch or find him and had to abort the mission. Goat won.
It's Dawn. We are sleeping. Both thinking we are having dreams of really loud bleating. Nope. It's Goat ... Scream, scream, screaming for his mom to come get him. Up and at 'em we yelled - pull on your jeans - Goat has survived the night and we have another chance at rescuing him. We call the sheriff. The sheriff called the Vet. The Vet says we've been searching all over for a little goat. A client was bringing a goat to the Vet and the goat darted as soon as the vehicle opened. Vet staff were running and grabbing and diving for that little goat until they were all bloody. Goat got away. Nobody can find him.
Dr Massey came up to the Inn and Carl and he went out to get Goat. They tried wooing him. They tried surrounding him. They tried roping him. Goat says, "hey, are you my mother? Do you wanna jump and run and play?" Vet texted people to help. Carl texted me that they needed someone at the Vets office to bring up a bucket of grain. I called the Vets office but there was only one person there so she could not leave. Carl & Dr Massey came back to the Inn soaked to the shoulders from tall wet grass. Goat won.
Dr. Massey said, "I'll be back in a minute - I'm going for reinforcement - I need people who know how to use ropes better than me and new boots and grain." In a few minutes here comes the squadron - pros who can lasso Goat.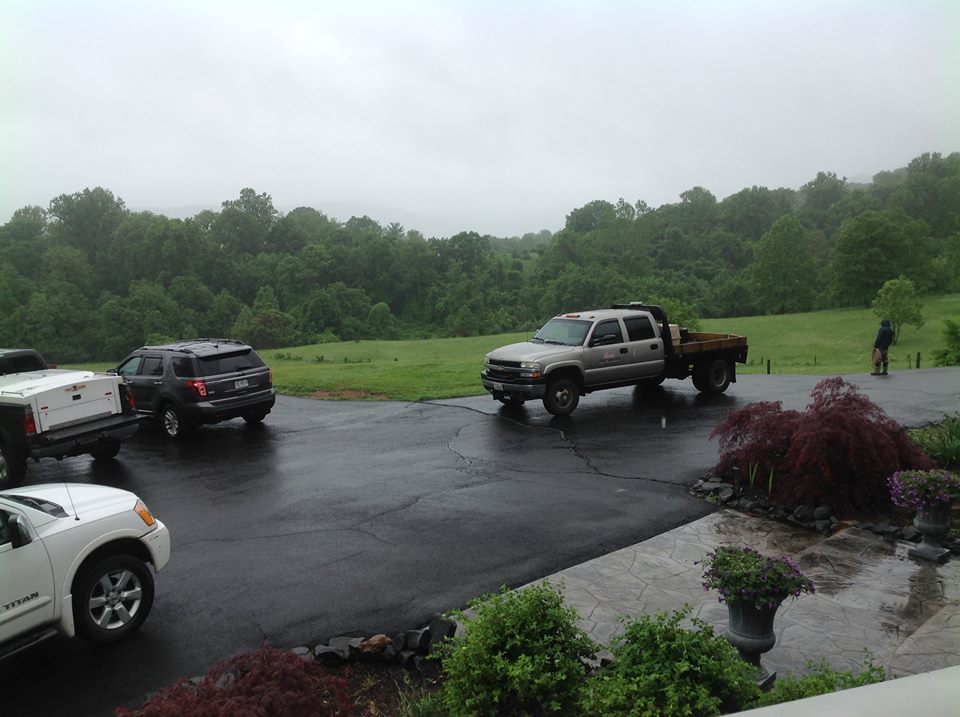 Back to the field they went. We heard russeling in the woods. We heard yelling. We heard very loud bleating. Then out they came.
It is a very cute little goat.