May 14, 2019
New Skyline Vineyard Tasting Room
By: Donna Henrickson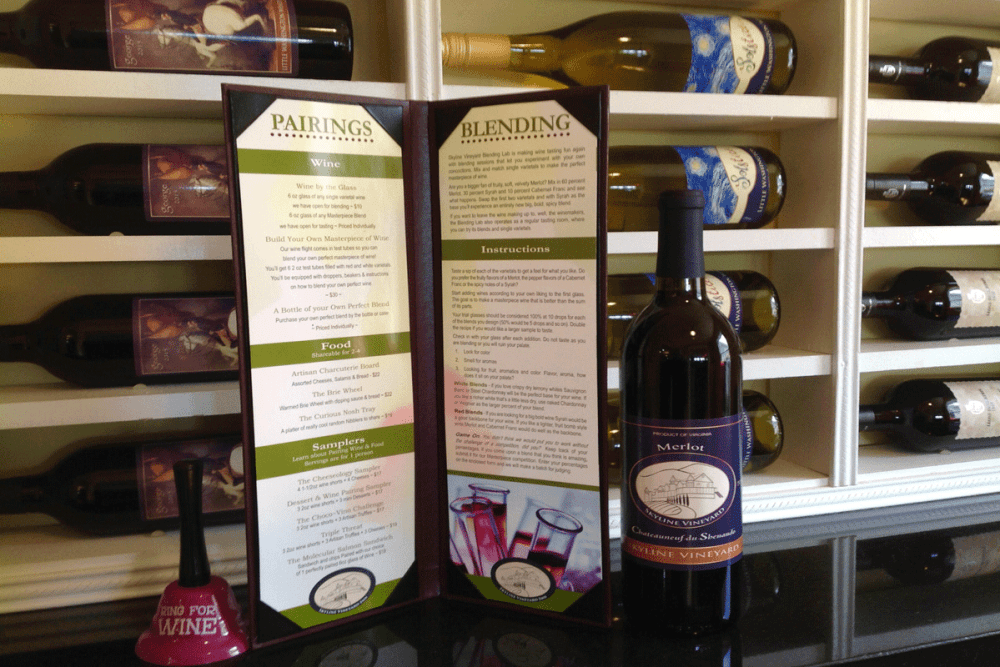 Skyline Vineyard Tasting Room

Open Saturdays & Sundays 12pm-5pm
You're gonna love this place!
We're excited to share our new Tasting Room with our club members and wine enthusiasts! This location, right in the back yard of Little Washington Winery, offers a unique kind of space that has the capacity for us to show and sell our award-winning wines and offer interactive experiences in the vineyard, unique tastings and culinary experimentation.
Four tasting components make up the main offering at the Skyline Vineyard Tasting Room:
-- DIY - Make Your Own Perfect Wine ... We're making wine tasting fun again by letting you play with your own concoctions! Mix and match single varietals to make your own perfect masterpiece of wine in our Blending Lab. Our practiced Wine pros will load you up with varietals in test tubes then guide you through an in-depth understanding of what each varietal brings to the equation of making a world class blend.
-- Virginia Vintners Collective - Taste five of the best Virginia Wines including our own award-winning George, our spiked Merlot and other rare Virginia wines that are making big waves on the world wine scene. Watch our class schedule for the Virginia Versus The World Taste-Off where the best of the best Virginia wines go head to head with world class wines.
-- Iconic Wine Blends - Experience those wines that are iconic in the wine industry - the French Bordeauxs, the Spanish Riojas and Priorats, the Cotes du Rhone Chateauneuf du Papes, Champagne...Many would be surprised to learn that this quintessential French wine is, in fact, a blend. Portugal's Port, Italy's Super Tuscans & Borolos, the U.S. Meritage blends. These wines are so highly sought after and rated by wine critics that they become pricey and scarce (nearly impossible to find). We'll open them up and see what all the hubbub is about!

-- DIY Food & Wine Samplers - Learn how to pair food and wine with our Do-It-Yourself Learning Samplers ... they're mini seminars that come with a lesson card so you can sit on the porch and learn how to pair Wine & Cheese, Dessert & Wine, Molecular Pairings, Chocolate & Wine and more.
Tastings are available inside the tasting room, around a communal table or in more private spaces, orr outside under the shade of the wraparound 'Gone With The Wind' porch. Cheese plates & charcuterie boards are available to enhance your tasting experience.