May 29, 2018
Ooh ... Take a Hike ... to a Spring Waterfall!
By: Donna Henrickson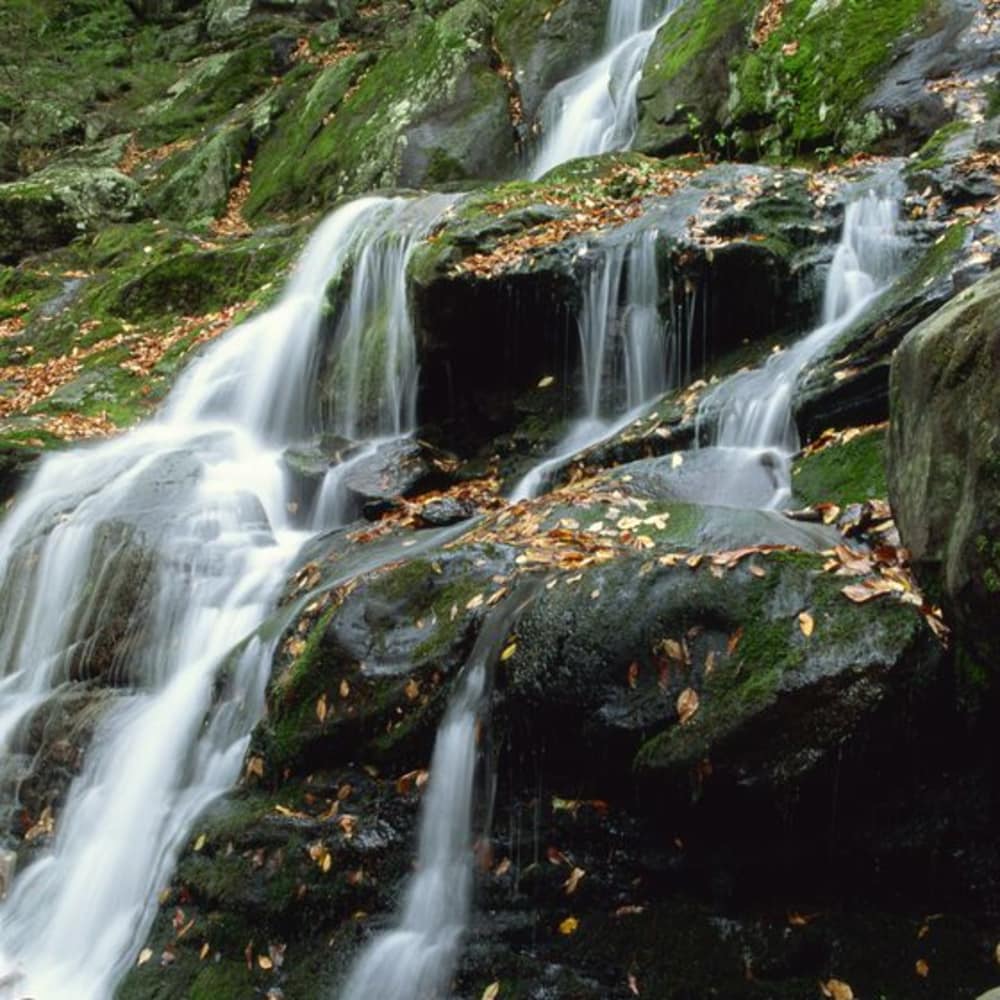 Shenandoah National Park (SNP) is filled with cascades of mountain streams dropping into the lower valleys. Lots of hikes to waterfalls are accessible just off of Skyline Drive at the Thornton Gap entrance to SNP. Waterfalls on Skyline Drive are most enjoyable after the spring rain season when water volumes are highest. Come now!
Thornton Gap Entrance - This section of Skyline Drive enters at Sperryville about 5 miles from Skyline Vineyard Inn. It is the most popular entrance because it has a lot of waterfalls.
A strenuous but well worth it hike - The trailhead for Whiteoak Falls is directly on Skyline Drive in the Skyland area. The hike is a strenuous 4.7 miles for the round trip journey to an 86-foot cascade.
For a shorter but not necessarily easier hike - 70-foot Dark Hollow Falls is on a 1.4-mile round-trip hike from Skyline Drive at Big Meadows.
An Easy Hike - Several waterfall trails stem from the Big Meadows area. Lewis Falls is an 81-foot waterfall plummeting over a cliff and can be accessed by a steep and extremely rocky trail located at the Big Meadows picnic area. The Rose River Loop Trail, consisting of a four-mile circuit at Fishers Gap along Skyline Drive, features a slow climb of about 720 feet through a federally designated wilderness area. You'll pass a cascade of 67 feet. Visit after a hard rain and you may see a series of four cascades. Nearby, you'll find Lewis Falls Trail, which travels just under 3.5 miles from across a stream and some rocky areas to Lewis Falls, which at 81 feet is among the tallest in the park.
South River Falls is often photographed by professionals for the scenery of the 83-foot waterfall, and the 2.6-mile round trip trail stems from the South River Picnic Area near the southern end of the Central District.
Still looking for more waterfalls? In the North District, between the Thornton Gap and Front Royal entrances, Overall Run Falls is a 93-foot waterfall in the Mathews Arm area of Shenandoah National Park. Mathews Arm has a campground and amphitheater; the trail begins at this parking area. The complete journey utilizes both the Traces Trail, which loops around the campground, and the Tuscarora-Overall Run Falls Trail. The round-trip hike is 6.4 miles and moderately difficult. A 29-foot cascade along the way is a precursor to the waterfall, the tallest in Shenandoah National Park.
Pack snacks, lunch, plenty of water. Wear sturdy shoes made for rocky terrain. Trails and rocks are slippery after a rain. Lunch and dinner is available at Skyland Resort or Big Meadows in Shenandoah National Park.