April 3, 2018
The Mountains are Calling ... SNP Hikes & Sights
By: Donna Henrickson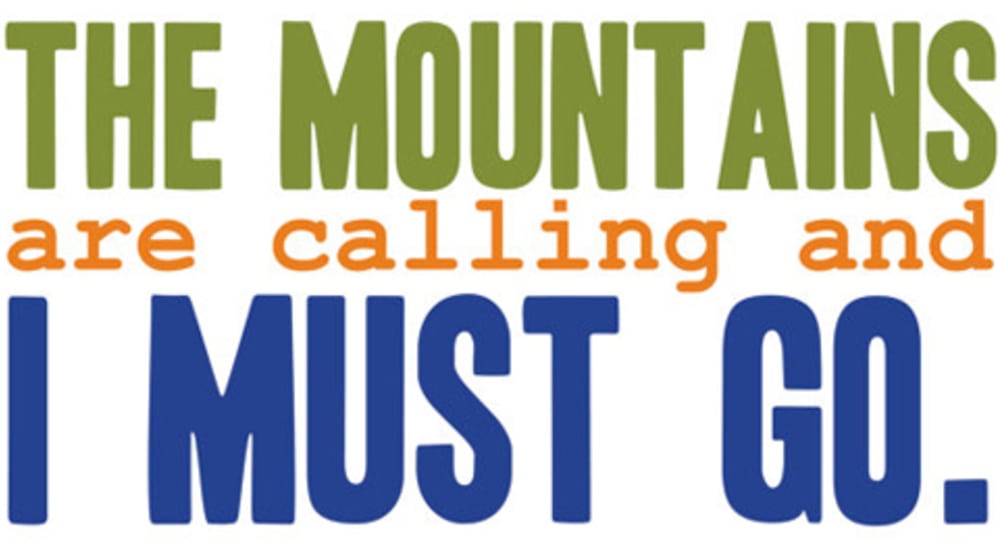 Shenandoah National Park (SNP), just 75 miles from the bustle of Washington, D.C., is the perfect escape for relaxation and recreation. With over 500 miles of fantastic trails, Shenandoah is hiker-central!
Skyline Vineyard Inn is located on the sunrise side of Skyline Drive, near the Thornton Gap entrance (Milepost 31). It's SNPs most popular entrance (because this is where the best hikes, overlooks and amenities are). Cascading waterfalls, spectacular vistas, quiet wooded hollows — take a hike, check out the overlooks and picnic on top of the mountains. Don't miss Skyland's lunch & famous Mile High Blackberry Ice Cream Pie, the unique gift shop, the SNP museum at Big Meadow and the tour of Rapidan Camp (Summer White House).
Our Favorite Hikes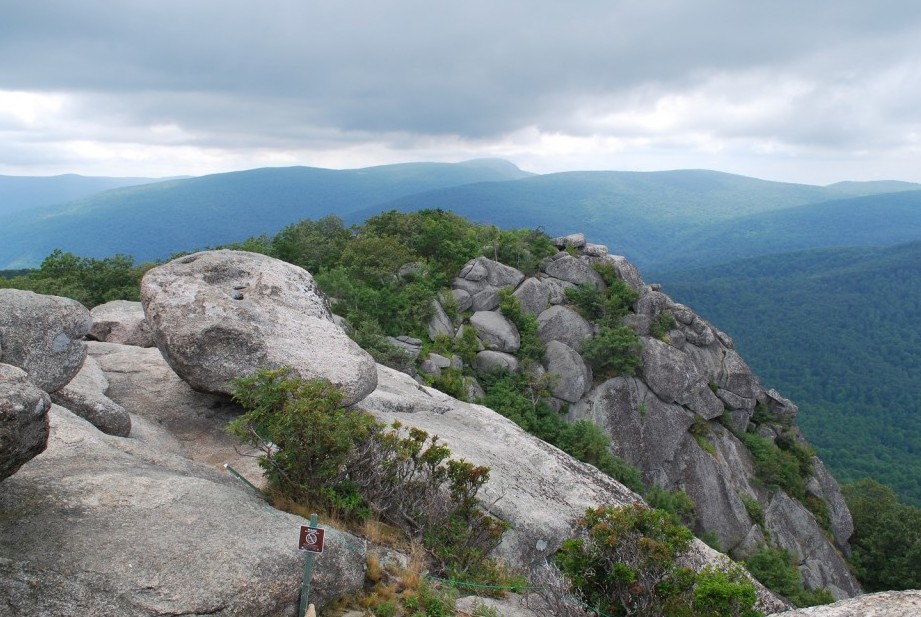 Old Rag Mountain - 9.2 miles - 2380 elevation - Very Strenuous - Click here for Downloadable Map
Old Rag is the centerpiece of our panoramic view and Shenandoah's most popular and most dangerous hike. The number of blogs and websites about this hike attests to its popularity. The number of search and rescue missions each year attests to its danger. There's no doubt that the scramble is great fun and the views are spectacular. A day on Old Rag is one of Shenandoah's premier experiences. It has one of the most challenging rock scrambles in the park. The Loop is a 9 mile trail that will take you all day so plan to rise early. Old Rag is considered to be THE best hike in Shenandoah National Park and one of the top 5 hikes in America. It is considered the 2nd most dangerous hike in America so go prepared with lunch and lots of water, not just a small water bottle. After you make it to the top, don't worry ... take the fire road down to make the whole thing a bit easier!
Although Old Rag Mountain is within the boundaries of Shenandoah National Park, most people approach it from the park's eastern boundary. Follow these directions to get to the trailhead: From Sperryville, Route 211: Take Route 522 south for .8 mile. Turn right onto Route 231 and go 8 miles. $10 parking if you don't have a Shenandoah Pass, $10 parking on the old lady's private property if the Old Rag lot is full. Expect a lot of crowds but the payoff is great.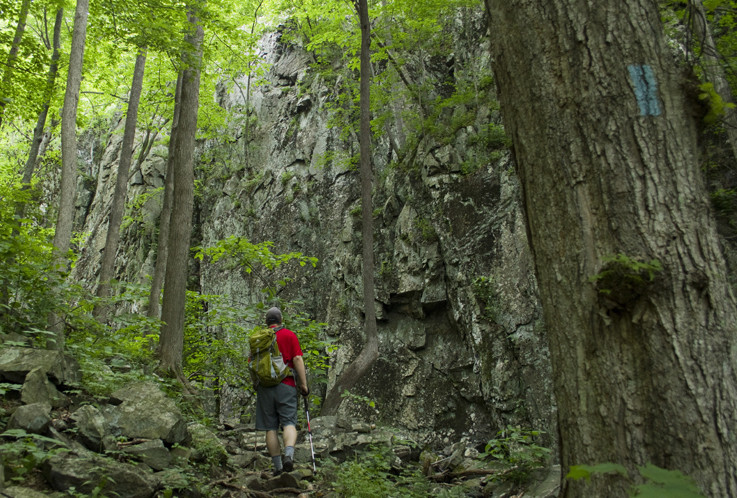 Milepost 19.4 - Devil Stairs - 5.6 miles - 1897 elevation - Strenuous - Click here for Downloadable Map
Big Devil Stairs hike is one of the more scenic gorge hikes in the Shenandoah National Park with two nice overlooks of the gorge and valley below. Little Devil Stairs, a 5.6-mile lasso loop scrambles upstream to waterfalls splashing in the deep gorge. Veer off-trail on Little Devil Stairs for stellar views like nothing else in Shenandoah.
Park at the end of VA670/Keyser Run Road and parking area for Little Devils Stairs. ... Because of the steep grade the first two miles of the Little Devils Stairs hike can be tough if the day is warm. You'll work a little on the first two miles but it is worth it. There are numerous waterfalls along the run if the water levels are up. The trail begins up the right side of the parking lot on the blue blazed Little Devils Stairs Trail. After 0.9 miles the grade will increase sharply as the trail climbs the ravine, and starts crisscrossing Keyser Run. Trail is hard to spot in places and you have to look for the blue blazes on the trees. As you climb up the gorge there are several spots that require hand over hand climbing.
At 1.8 miles the Little Devils Stairs Trail becomes less steep, then makes several switchbacks before leveling off completely and arriving at the intersection of the Keyser Run Fire Road, and four way junction.
Turn left down the yellow blazed Keyser Run Fire Road and in 2.0 miles enter an old hemlock forest before arriving at the Bolen Cemetery and intersection of the for the the Hull School Trail. Stay left down the yellow blazed Keyser Run Fire road as it becomes steeper for the final 1.1 miles back to the parking area.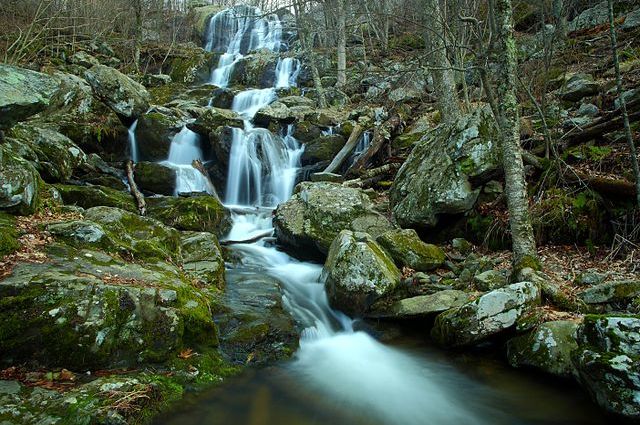 Milepost 22.2 - Matthews Arm Overall Run Falls 3.8 Miles - Moderate - Click here for Downloadable Map
Biggest falls in Shenandoah at 93 feet. From the Mathews Arm Campground registration parking area at mile 22.2, take Traces Trail to the yellow-blazed Mathews Arm Road. The road becomes Mathews Arm Trail. Stay on the right at its intersection with Beecher Ridge Trail and continue on Mathews Arm Trail following it to the intersection with Tuscarora-Overall Run Trail. Go left and follow it about a tenth of a mile to a side trail. From here you can see the upper falls. Retrace your steps back to your starting point. NOTE: Unless rain is plentiful, Overall Run Falls may have minimal to no water flow.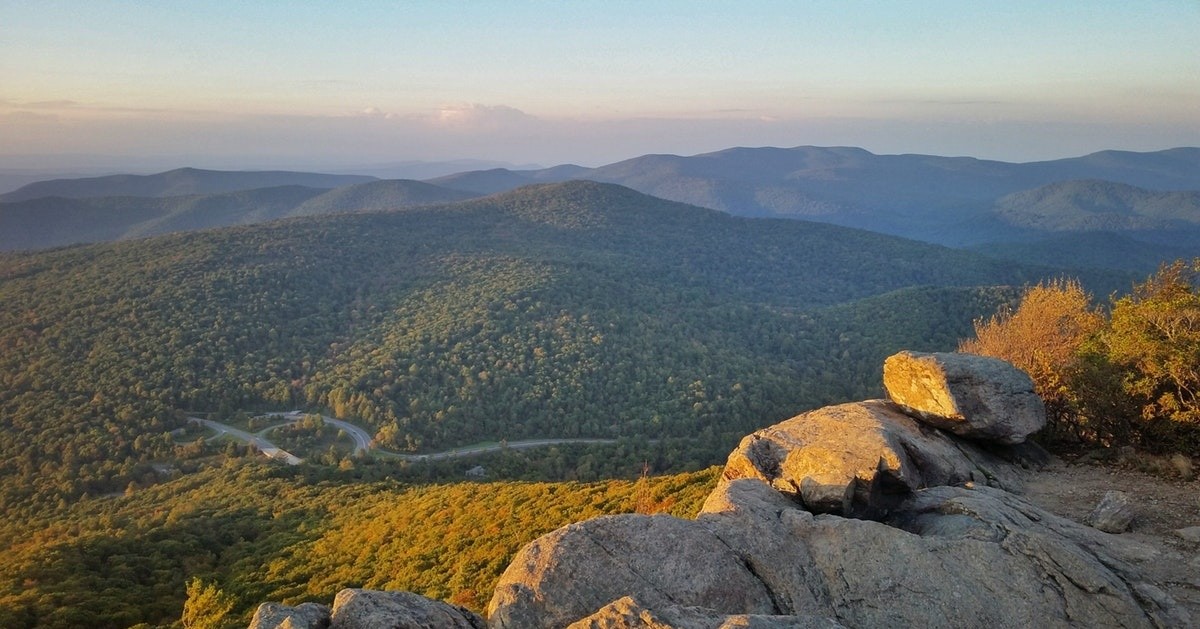 Milespost 31.6 - Mary's Rock - Easy - Click here for Downloadable Map
Mary's Rock summit is a fun, easy hike, and the view at the top is literally breathtaking. Mary's Rock is one of the loveliest hikes at Shenandoah National Park and not nearly as crowded as better-known White Oak Canyon or Old Rag. There are several ways to do this hike, depending on how far you want to walk. The prettiest and longest option is a half-day out and back 6.2-mile hike that starts from the Jewell Hollow Overlook parking lot and follows the AT until it reaches the blue-blazed Mary's Rock Spur trail in the last 0.1 miles. At the summit, there is plenty of space to relax and enjoy the view. Hikers can enjoy 270-degree vistas of foliage and gently rolling mountains. There is a fairly lengthy uphill section on the way back, which can be challenging when you've already been walking 4.5 miles. The trail itself is peaceful and picturesque and features intermittent 180-degree views of the Blue Ridge Mountains and valleys below at several small overlooks. The trail is rocky in a few spots making it a bit tricky to maneuver at times. Experienced hikers looking for an all-day challenge can catch the Buck Hollow/Buck Ridge trailhead from a small parking lot right off of Route 211, about 2 miles west of Central Coffee Roasters. Buck Hollow/Buck Ridge adds another 1,400 feet of elevation gain for a total elevation gain of 2,600 feet spread over 9 miles. For shorter hike options, you can catch the trailhead from the Meadow Springs parking (mile 33.5) or the Panorama parking lot (mile 31.6). Both of these options are under 4 miles round-trip but significantly steeper than the Jewell Hollow route.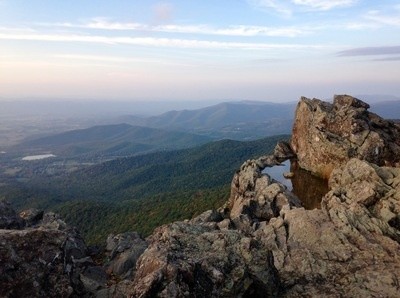 Milepost 41.6 - Stony Man Trails - 1.6 miles - Easiest - Click here for Downloadable Map
Parking for the Stony Man hike is on milepost 41.6 of skyline drive. Look for the concrete mile markers as you drive. When you pull into the parking lot and you are facing the woods, you will see a trail to your left and right corner of the parking lot. We took the trail on the right side of the parking lot. There is a sign with a large map on it, take a minute to orient yourself. I believe both trails meet at the 4 way intersection but just so we are on the same page. This trail covers Stony Man and Little Stony Man, both are worth seeing. This is a short, easy hike that will take you to some of the best views in Shenandoah National Park. It's an easy, 2.9 mile walk along (mostly) the Appalachian Trail to the summit of Shenandoah's second highest peak. The two main vantage points along the way provide nice views of Skyline Drive and Skyland Resort below. As an added bonus, it's perfect for catching the sunset without a long walk back to your car in the dark. If you're looking to increase the level of difficulty, there is an alternate, moderate trail option that increases the mileage and leads to Little Stony Man Cliffs, just below the main peak, which is a popular rock wall with local climbers. Make sure to pick a haze free day, because you don't want to miss all the views along the the ridge!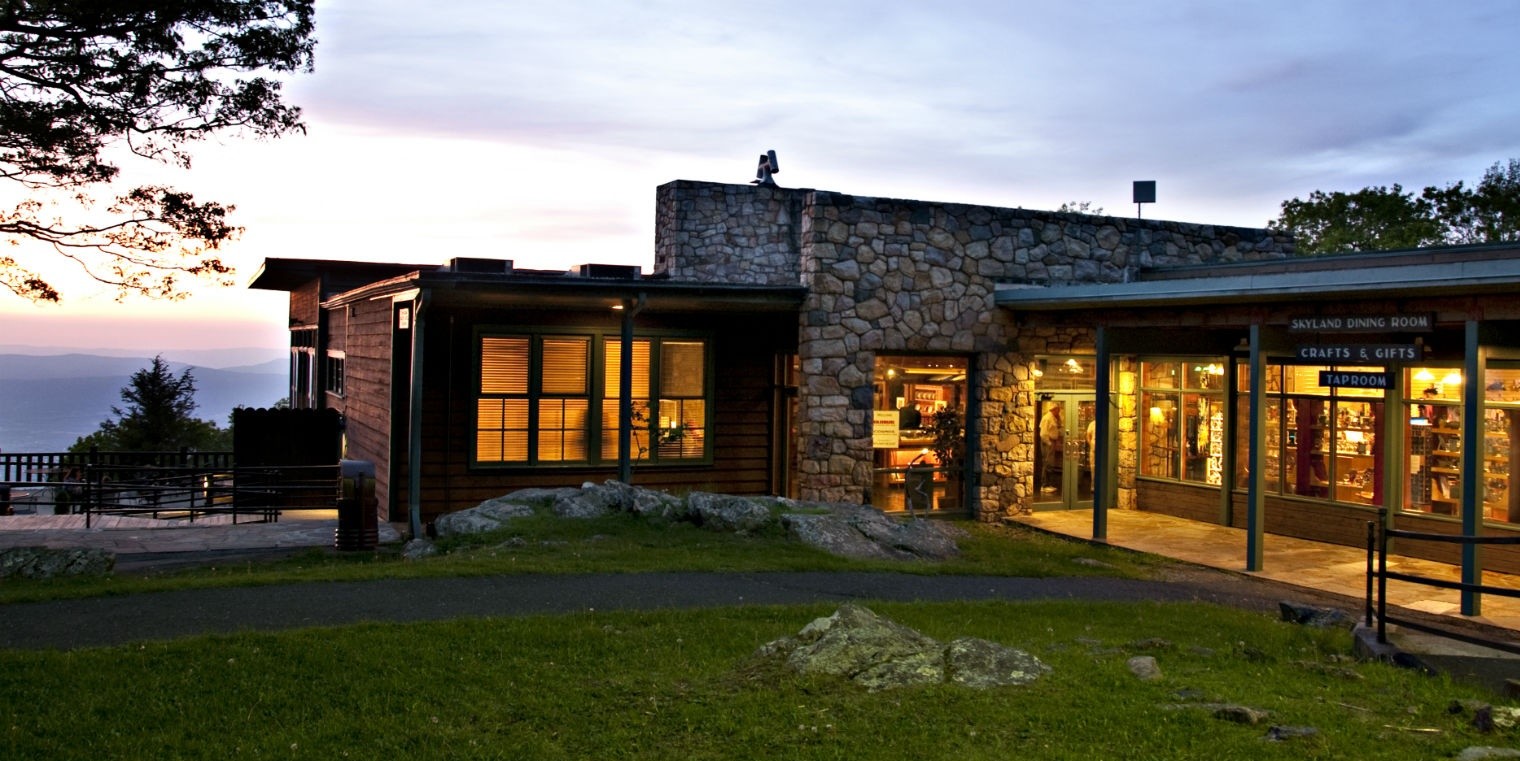 Milepost 41.6 - Skyland Resort - Click here for Downloadable Map
Skyland's Pollock Dining Room serves wonderful regional specialties with farm-to-fork flavors and sumptuous views of the Shenandoah Valley. And considering the elevation of Skyland, it's only natural that Mile-High Blackberry Ice Cream Pie is a house specialty! They also host annual holiday buffets.
Decades before Shenandoah National Park was established, vacationers traveled to Skyland Resort seeking respite from urbanized, mechanized city life. The resort was created in the late 1800s and grew in popularity among middle class business people in nearby urban areas.
George Freeman Pollock, dynamic and gregarious, managed Skyland with a showman's flair. His ever-present bugle awoke guests each morning, summoned them to meals and elaborate entertainments, and announced the departure of the daily mail.
Pollock promoted the resort through his newspaper, The Stony Man Camp Bugle Call. Published somewhat erratically, the paper provides a glimpse into daily life at the resort we know today as Skyland.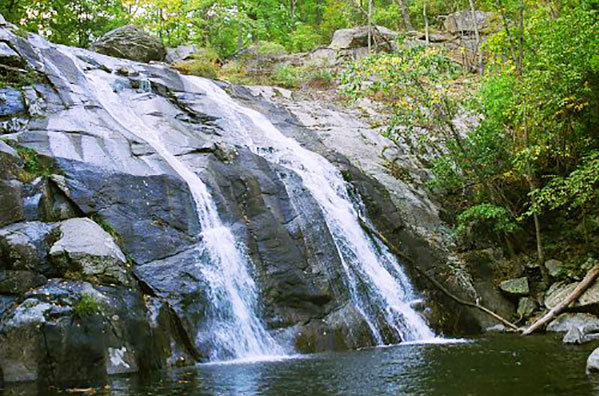 Milepost 42.6 - White Oak Canyon - 4.6 miles - moderate but long - Click here for Downloadable Map
This has to be the best waterfall hike in the Shenandoah National Park with six waterfalls, cascading from 35 to 86 feet. There are swimming holes at the bottom of each waterfall, but do not expect much privacy because they are quite popular.
The trailhead begins directly across Skyline Drive from Skyland Resort, making easy access to restaurants and facilities when you are finished hiking at Skyland. The disclaimer is ... if you park there you will be walking down, down, down and then having to walk all the way back up to get to your vehicle after you have had a long, exhausting day. Be sure to bring your son so that you can say, "We quit. We can't possibly walk one more inch. Can you please run and get the car before it gets dark?"
Whiteoak Canyon can also be accessed from the Park boundary at the base of the mountains with an easy two mile hike up to the first waterfall if you want to do the hard part (uphill) first and then go downhill on the way back. (From Syria, VA, follow Weakley Hollow Road to Chad Berry Lane, park in lot. Porta-johns available. Pay is on-your-honor.) Start the trail indicated until it splits...left to Cedar Run Trail/Falls, which I understand is a much longer trail, or right to stay on Whiteoak Canyon Trail/Falls, a shorter yet extremely pleasant hike. The trail follows the river the entire time, and there are 3 gorgeous waterfalls as well as many smaller rushes of water. The trail is a gradual elevation, with just a couple of places to climb under/over fallen trees, but overall very nice. There are many places along the way to stop and take pictures or eat lunch. After the 3rd significant waterfall, the trail ended and there was just some broken chicken wire which apparently at one time had been intended to block hikers from going further? We decided to see what was beyond that. With no trail it required a lot of rock (boulder) scrambling and leaping. This part would not have been for the faint of heart. However, we were SO glad we continued, because within a half mile we were rewarded with the largest waterfall yet, with a gorgeous pool of water at the bottom.
The adventurous, physically fit hikers can take the steep 4.6 miles hike to the Upper Falls, Whiteoak's highest waterfall at 86 feet. Return trip is very steep. Consider your physical condition and available time before continuing past the upper falls. Add an additional 2.7 miles round trip (1100' elevation change) to lower falls and return.
Those who love to push themselves may enjoy the strenuous hike around the Cedar Run/ Whiteoak Circuit, which provides views of a few of the waterfalls. (Mile 45.6) – very strenuous 8.2-mile circuit hike. From Hawksbill Gap, take Cedar Run-Link-Whiteoak-Whiteoak Fire Road-Horse Trail. Be sure to bring plenty of water.
Milepost 45.5 - Hawksbill Loop - 2.9 miles - Moderate - Click here for Downloadable Map
Hawks Bill Summit is the highest point in Shenandoah National Park. A hike to the summit of Hawks Bill Mountain will not only put you at the highest point in Shenandoah National Park (4050'), but you'll have a 270 degree view perfect for a sunset. Best View we've Ever Seen. This is a quick 45 minute hike up. It is fairly easy but closer to the summit it gets very steep. Once you get to the summit there is a big boulder with 3 trails, make sure to take the one on the right- that has the best views. You can see 360 degrees, hear the falls below and see the Linville River. Absolutely beautiful and so fun to climb around the rocks on the summit. This loop starts with the Hawksbill Summit Trail that begins at the Lower Hawksbill Parking lot. The trailhead is a large white oak tree and from that point going forward this is an extremely steep 1.5-mile journey to the peak. At the top, you'll reach the day use shelter and the extremely photogenic "Byrds Nest" is just 50' past that.
Hawksbill Gap Loop via Appalachian Trail is a 2.6 mile moderately trafficked loop trail located near Syria, Virginia that features beautiful wild flowers and is rated as moderate. The trail is primarily used for hiking, walking, nature trips, and birding and is best used from April until October. Dogs are also able to use this trail but must be kept on leash.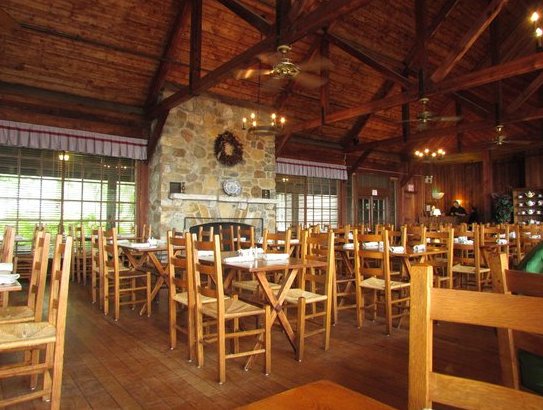 Milepost 51 - Big Meadow - Click here for Downloadable Map
Big Meadow is a great place for lunch and a cool place to wander. There's no right or wrong way to do it; just follow the animals' paths. Every season will reveal something special: wildflowers, fawns, butterflies, tracks in the snow—you never know what you might find. There are several hikes that start from here. Click the image for the area map. Campgrounds open beginning in spring, usually late March with Big Meadows opening first, followed by Lewis Mountain in April, and Mathews Arm and Dundo in May. Campgrounds begin closing in late fall. Big Meadow contains the park's Harry F. Byrd Visitor Center that walks you through the history of the building of SNP.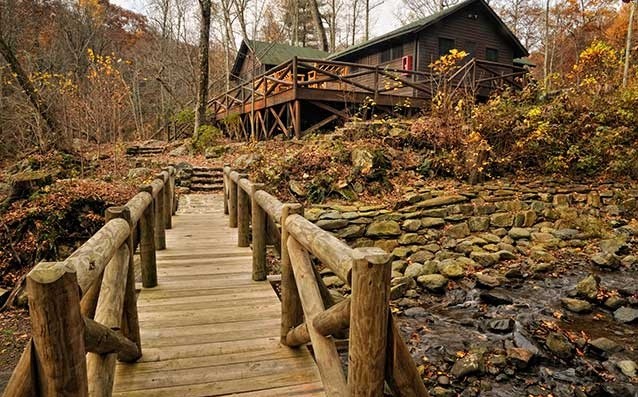 Rapidan Camp (also known as Camp Hoover) - Click here for Downloadable Map
Built by U.S. President Herbert Hoover and his wife Lou Henry Hoover, and served as their rustic retreat throughout Hoover's administration from 1929 to 1933. The first family's residential cabin was known as the "Brown House" in contrast to their more famous residence, the White House. During the summer months, ranger-led tours of the camp are available, leaving from the Harry F. Byrd Visitor Center; tours are also sometimes given at other times. Reservations are required and can be made online at Recreation.gov or by calling (877) 444-6777. Request the "Special Tours" category and specify Rapidan Camp. Reservations can be made up to six months in advance. The camp features the president's cabin, The Brown House, which has been historically refurnished to its 1929 appearance.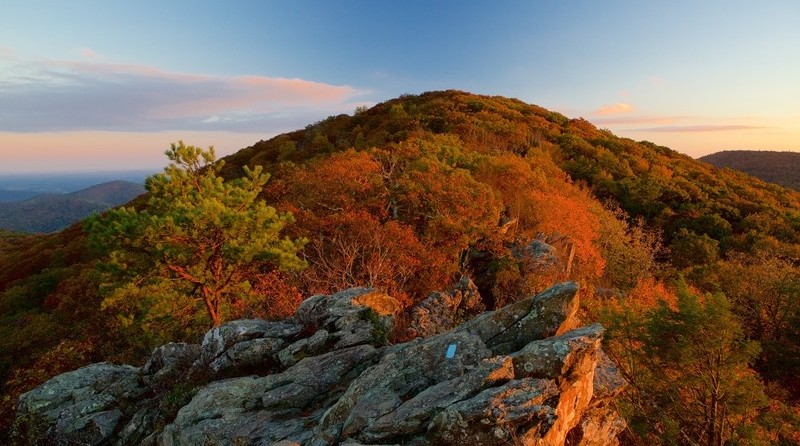 Milepost 56.4 - Bear Fence Mountain - Click here for Downloadable Map
Bear fence Mountain has a short, but deceptively challenging hike in the central district of Shenandoah National Park. Although it measures just 1.2 miles, it's not for the faint of heart when it comes to heights. A photo taken from the correct location shows nothing but sky behind the person on the ledge. It has become a ritual to take photos of each other from this vantage point on each hike up Bear fence. If there are three or more in the party, the photo may show a second person on the close side of the outcropping stretching out a hand in a staged attempt to "save" the person who is pretending to be falling.
After Hike Activity: If you come down the mountain before 6pm be sure to pop over to Little Washington Winery for a selfie of you and your glass of wine with the giant selfie backdrop of your day's hiking adventure! Then, stop for really good pizza, burgers, or casual upscale al fresco dining at one of the cool restaurants listed on the "food" page of our website!